We have been blessed with some beautiful summer weather here in New Zealand, and ice cream has featured prominently on my treat radar since it is so hot!
I had a scrapbooking workshop in the weekend with a summer theme, and was looking for something to serve 20 ladies. Ice cream itself was out of the question, so when I stumbled upon cupcakes baked into ice cream cones and decorated with frosting to look like icecreams, I knew I was on to a winner.
You will need:
ice cream cones with a flat bottom
mini cupcake tin
Your favourite chocolate cupcake recipe (my recipes follows)
Three food colourings ( I used pink, blue and green)
Piping bag with a star tip
Sprinkles
The recipe I used for the cupcakes is:
12 tbsp unsalted butter, at room temperature
2/3 cup white sugar
2/3 cup packed brown sugar
2 eggs, at room temperature
1 cup milk
1/2 cup sour cream
1 3/4 cups flour
1 cup cocoa powder
1 1/2 tsp baking soda
1/2 tsp salt
Preheat the oven to 180 degrees C. Place one ice cream cone in each mini cupcake pan.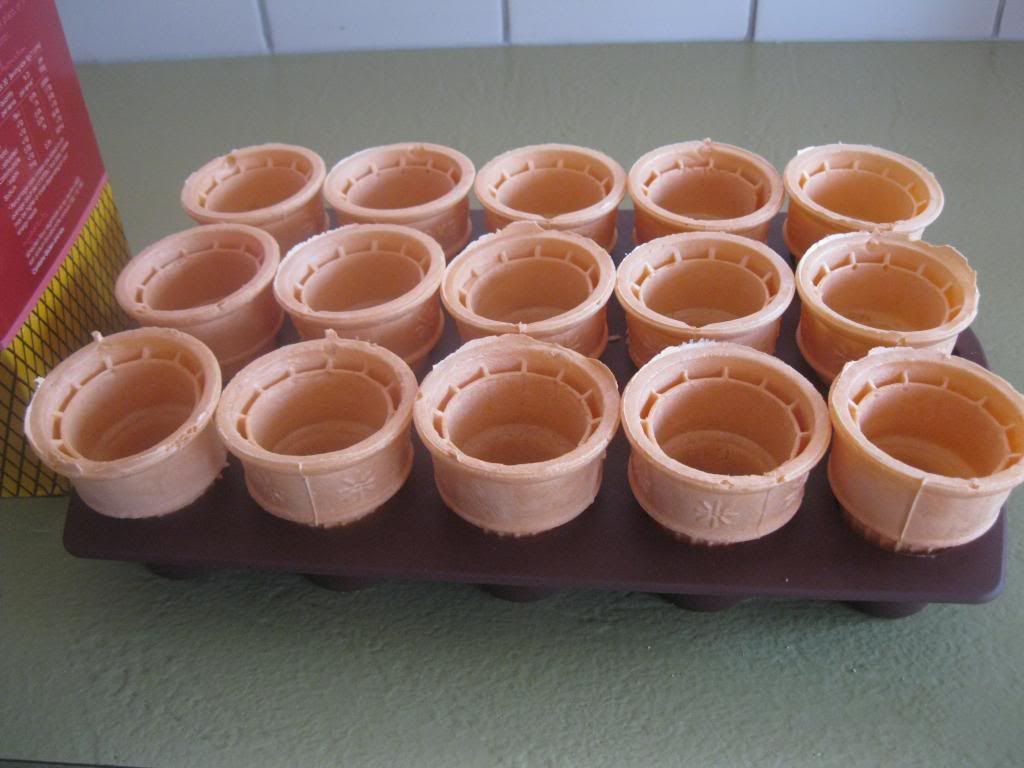 In the bowl of an electric mixer, cream together the butter and both sugars on high speed until light and fluffy. Add the eggs one at a time, beating well after each addition, followed by the vanilla.
In a separate bowl, sift together the flour, cocoa powder, baking soda, and salt. Set aside. In a separate bowl, combine the milk and sour cream.
With the electric mixer set on low, add the dry and then wet ingredients slowly.
Fill the ice cream cones with about one tablespoon of mixture each. You don't want them to be too full, otherwise they will overflow during the baking process.
Bake for about 25 minutes or until a toothpick inserted into the center of the cone comes out clean. Remove the cones from the cupcake tin and transfer to wire racks to cool completely before frosting.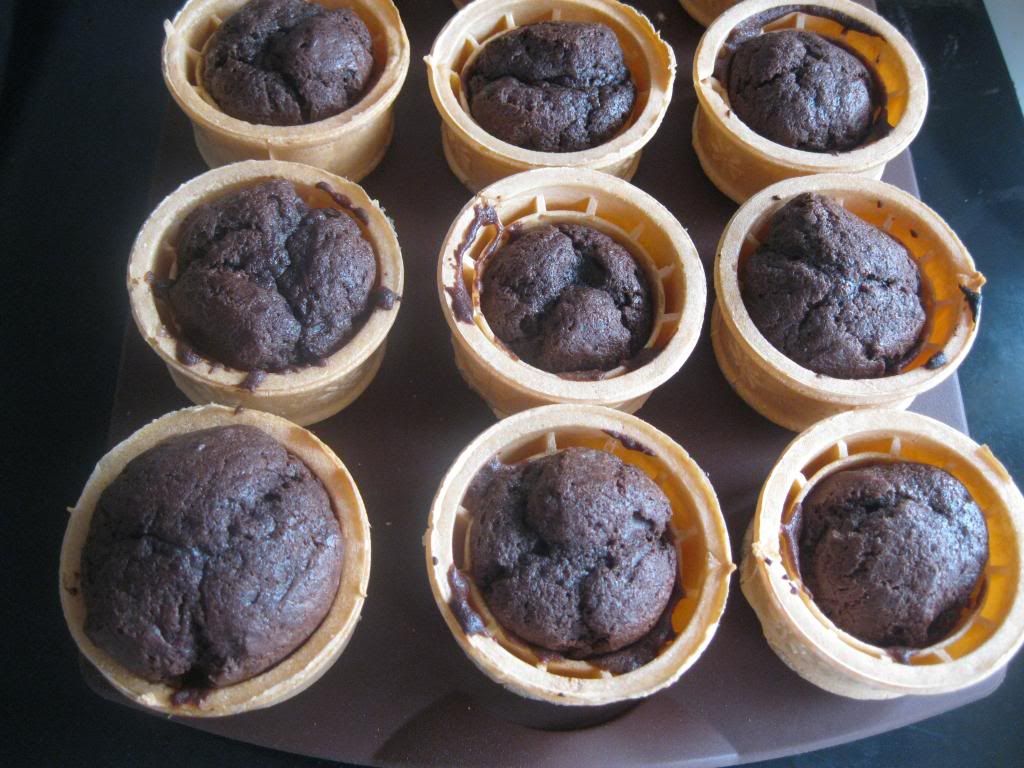 My frosting recipe is very simple: 1 cup softened butter, 100g icing sugar and 1 tsp vanilla essence per colour. I used three different colours. You can also flavour your frosting if desired. Fill a piping bag fitted with a large star tip with your frosting, and pipe the frosting over the tops of the cupcakes using a swirling motion, similar to a soft serve ice cream machine.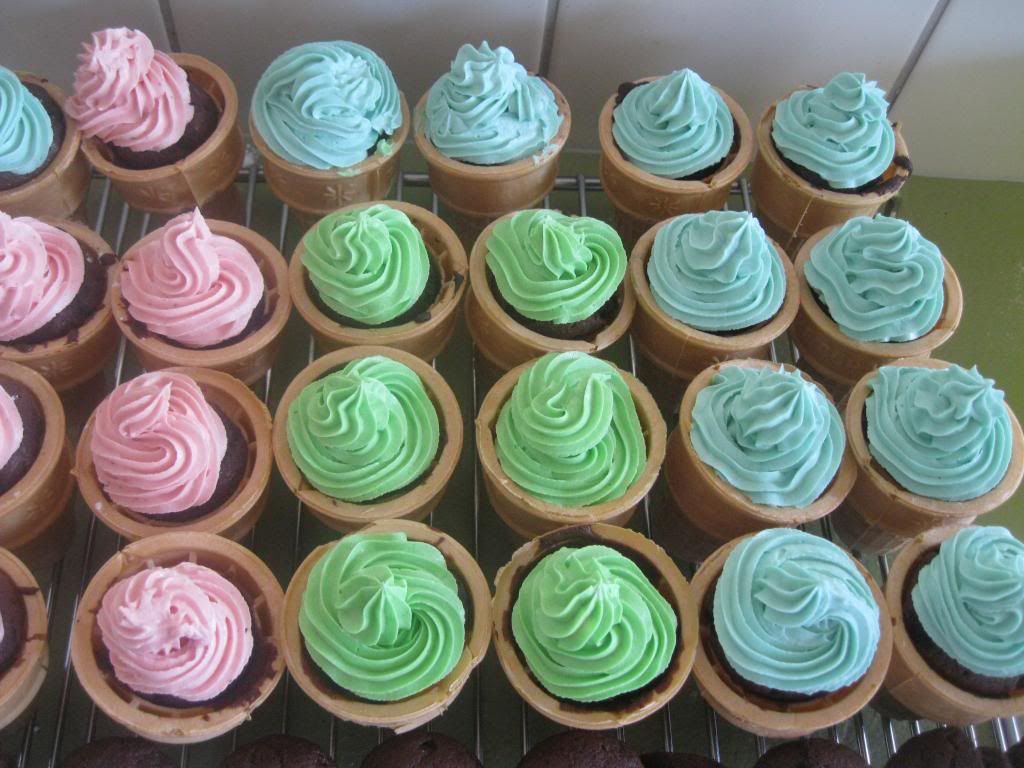 Once all the cupcakes have been frosted, decorate with sprinkles or any other decoration of your choice. I did a different sprinkle type for each colour.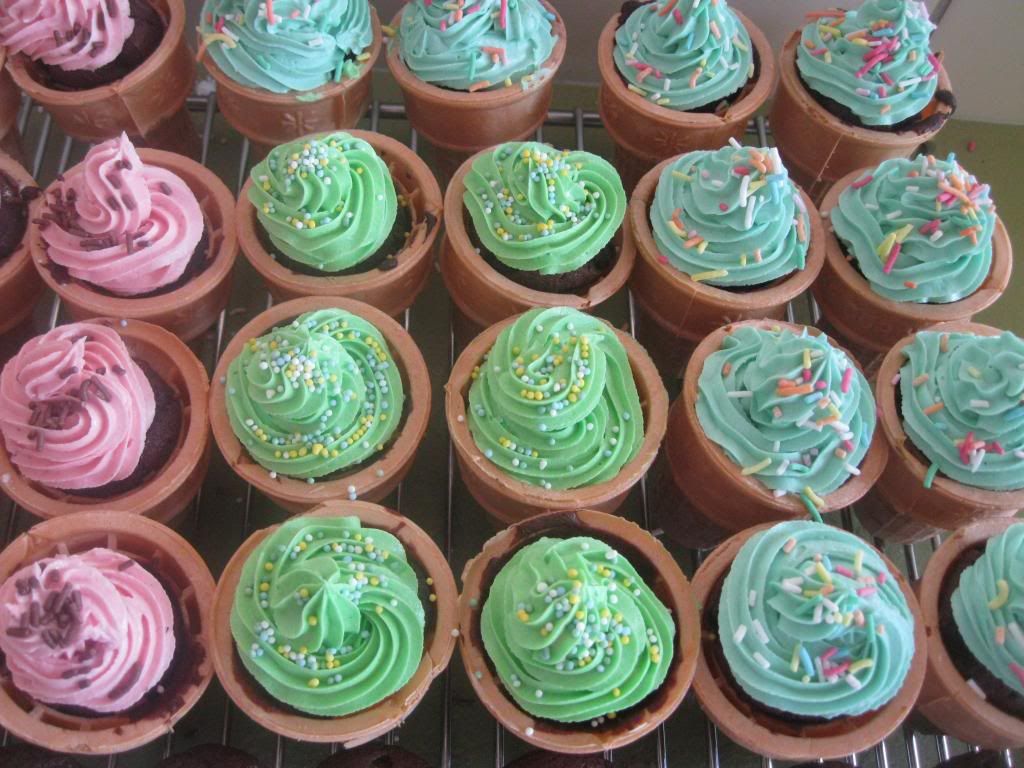 The cupcake goes right down to the bottom so that you are not left with an empty cone base, and these will keep for up to four days. What a yummy treat, and you can enjoy these in cold weather too!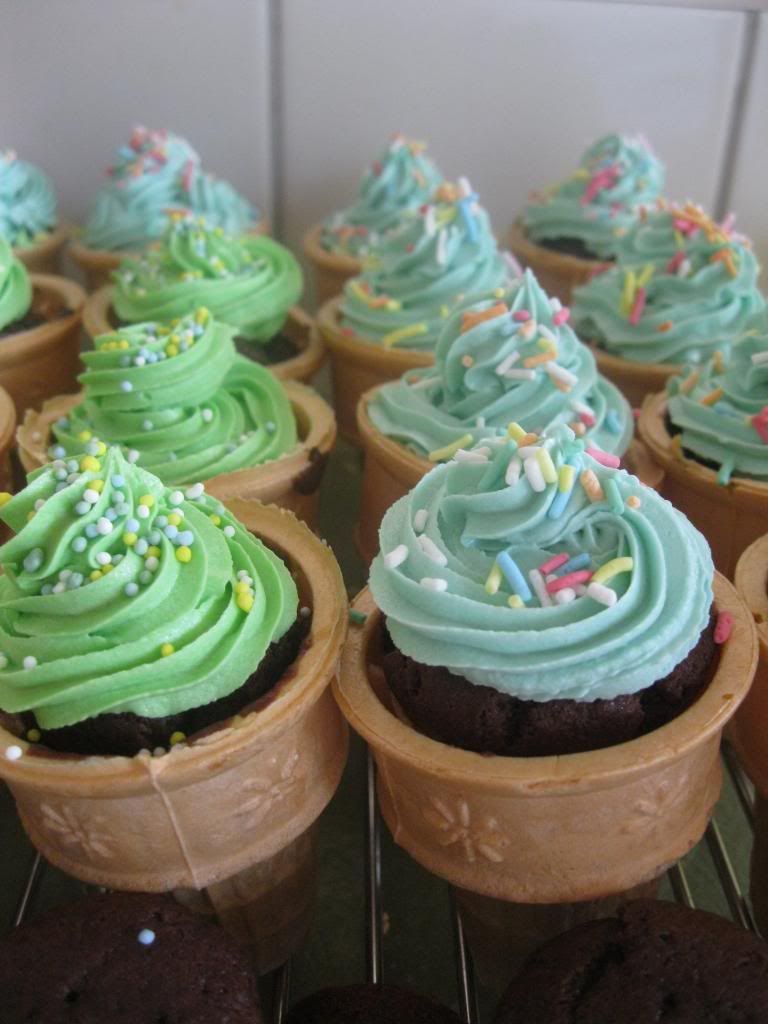 I am linking up to Kitchen Fun Friday!